I have been wanting to post on a few subjects lately, a few daily events I feel worth mentioning, so here we go. A day of a triple post!
I think I want to start a series, in which I post a photo of a sunset or a sunrise, taken from my window. Everyone loves a good sunrise/set! Here's one that looks a bit like a forest fire. Taken around 4:30pm this past Friday.
Now, on friday morning i woke up and had been bitten by the bug. No. Not a bug of sickness, but a bug for SONG! The Karaoke bug. So that night we ventured to a new venue, a new singing frontier, at
Karaoke 17
Click on the photo to see more pics of us rocking out! After Karaoke Sheila took me to a new dining experience called Shabu Shabu at this restaurant: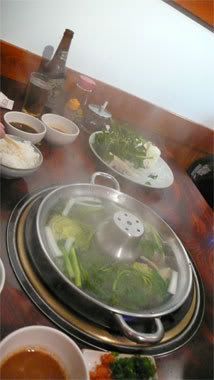 It was DELICIOUS and FUN. You get this boiling bowl of water and you throw in veggies and greens to make a broth and dip meat into it for like, 30 seconds, then dip the meat in a sauce, then rice, then you put it in your mouth. It was a lot of fun. And while reviewers complain of the wait, we showed up at 10:30pm on a Friday night, sat right down at the best table in the house (in the front booth, where you feel like your the only ones in the restaurant) ! The next morning I was on the train and ran into a reindeer: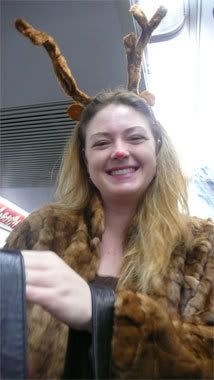 OK! Not a real reindeer, but I appreciated this woman's spirit. She struck up many a conversation with strangers on the subway, which I am also a big fan of doing (talking to strangers that is.) And finally for this post, I saw this graffiti in the subway and it reminded me of a piece that we recently featured on
rocketboom with Mechanical Sculptor Stephen Gerberich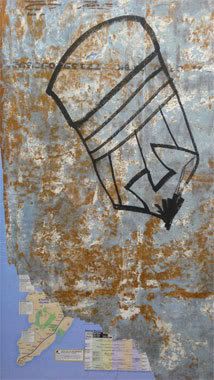 Dr. Gerbeau
did a piece called "Amer-o-matic" commenting on 9/11. Within the piece were several pencils sharpened down to the nub. The message being, "live life to the fullest." I like this image and the message attached. Let's all get out their and wear our pencils down to the graphite BABY! What have we got to lose? I'll tell you what...nothing, absolutely nothing!