While working for the
Children's Museum of the Arts
I have been really lucky to have met and taught a lot of amazing kids. Kids today are so different from when we were their age, as i think is the case for all generations. The youth of today at age 7-11, some as early as 5, are already computing, animating, filming and recording....these guys are just huge sponges for technology. But all the technicial knowledge in the world, whether youth or adult, doesn't do you a scrap of good if you have no imagination.
The most amazing kid I've met is Abe:
Abe is one of the smartest, and most imaginative kids on the planet earth. He has taken many classes with us from animation to filmmaking, sculpture to comics. He, to quote himself via a
documentary of one of the classes
, "loves to think up ideas." It is only too obvious that he is good at it as well! He never ceases to amaze me. I think his parents and the environment they have created around him play a large part in all this. His father is a producer for
the radio show, Jazz @ Lincoln Center
. The house is filled with old radios of many kinds, old records (vinyl!) in shelves to the ceiling, and a lot of blank paper for writing stories and comics. His pop is really into
shortwave radio
and I hope to feature him in a future rocketboom episode, I was fascinated by our discussion on shortwave....check this out, he uses a SLINKY as an antenna!
They have an old House in Brooklyn, compared to my apartment it seemed a masion, in the sense that they had multiple rooms and three floors. They had some really interesting things inside that I had never seen, such as this speaking hole, in which you can talk into the hole in the wall and the "servants" in the kitchen could do what you bid of them: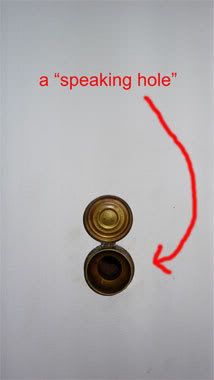 Mostly now they use it for kicks. They also had the remnants of a buzzer type device that was in the floor and was probably placed under the dining room table, where the "master" of the house could have stepped on said buzzer, to alert once again the "servants" in the kitchen that something was needed, without having to ever disrupt the dinner party.....fascinating!
I am just so pleased to have Abe and his parents in my life. Everytime I see Abe I leave with a smile on my face, a chuckle in my gut and my mind overflowing with new ideas. Thanks Abe, for keeping my brain on it's toe's.