Yesterday was a gloriously (cold) fun-filled day in Shelton, CT. The Clan gathered to partake in some good ol fashioned tailgating and some Christmas Tree Craziness.
Click the picture to view Photo's from the whole day
A fun time was had by all, and I highly recommend you visit if your in the area, or HECK, even if your nowhere close, you should find a way. It made for an absolutely memorable holiday.....DAY! The subject at top of Blog links you to their site. In other news... I hereby declare today.....MAKE YOUR PARENTS PROUD DAY!
This is for my Mum: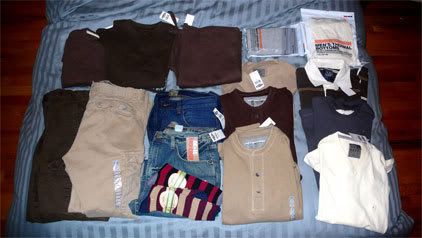 8 Shirts, 5 pairs of pants, 3 pairs of underwear (one longjohn's) and two pairs of socks for $201.44! An overal savings of $65 Mom. Check me out! My Mom will hopefully be proud that a) I purchased new clothes, as I have a tendency to wear my stuff into the ground and THEN six feet under that and b) the good deals.
I'd like to take this opportunity to
Praise Old Navy
. For years I could walk into an Old Navy, grab a pair of 32x30 Boot-cut jeans and walk out without even blinking. This perfect shopping relationship went on for many years, until Old Navy decided to fuck things up. They stopped carrying the jeans I liked in favor of the Boot-cut "special edition." Special Edition stands for twice as much money and comes with holes ALREADY in the jeans. I prefer to wear my own holes in, thank you very much. So I walk in to the store today, and head towards the jeans, finally, after maybe 2-3 years, I was going to purhase the overpriced monstrosities, as I have never found the Old navy's Boot-cut equal. WOAHHHHH! What's this?! Old Navy has brought back the original Boot-Cut! I was tickled. I was also tickled to find that I can now wear a 31x30. This opens me up for greater success in obtaining said jeans. I beleive 32x30 is always a popular size and difficult for me to find, so with the extra waistline option, I am very pleased.
This is for my Pop:
My Father once said to me that "having a lot of keys is a sign of responsibility." Well Dad, I have 20 keys on my chain, and I'm feeling PRETTY DARN RESPONSIBLE.
Well, I've had a long but productive day...it's off to the sack for me. Till the morrow.