So I'm badly in need of a cocktail, and I stumble across this new restaurant, only 3 months new, right by the RB Studio called:
It looks quiet and warm. I saddle up to the bar (saddling mind you because it's a WESTERN Bistro) and order a foo-foo girly drink, that I am assured, despite it's pink nature, it is a stiff beverage:
The "Lovestyle Martini" made with Plymouth Gin, Chambord Black Raspberry Liqueur, Cranberry and Lime juice was delicious. So I figure, well, I might as well take a gander at the menu. The smell of food get's my stomach going, and I decide to reward myself for my efforts of the day with a solo meal. I order the Beef Tenderloin with a side of Asparagus:
It was AMAZING. nothing pariculalry special about the Asparagus, but the STEAK...Oh man. Quickly took my second top spot, right below
Peter Luger's
The Cilantro butter with pepper on the top was so simple and delicious, and the meat so tender and cooked to a perfect Medium rare. I was very pleased. I devoured it in record time and decided...when in a western bistro do as the westerner's do. I order the national beer of Texas:
Gulp. Gulp. Gulp. It's empty. Two girls walk in and I overhear them discussing
Tuaca Liquor
. I had previously been discussing this unkown liquor with the Bartender, Tejas (he didn't want to be pictured, but I must mention, he was extremely knowledgable and pleasant, one of those bartenders that takes pride in his work and knows when to strike a conversation with you and when to shut his mouth and let you fill yours, he rocked!) So I say to myself, "we shall all try Tuaca and be merry!" I order a shot for myself and "the ladies." We all enjoy it and I learn that one of them is from Texas and this is the big "shooter" of the region. I agree with the reviews, the potential for using this as a mixer, as well as sipping it straight is well founded. In short, I liked it.
So now, my "just one cocktail" has turned into a full blown meal. I'm feeling.....well....good, relaxed, and OK, a bit buzzed. I decide to peruse the desert menu....I'm not going to get anything mind you...I'm JUST going to LOOK AT IT: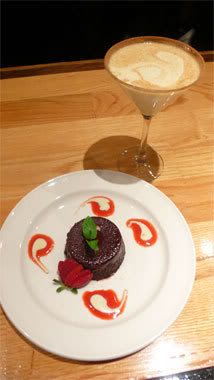 And LOOK, here it is! Damn, I ouldn't resist a new chocolate cake to try and an eggnog drink to top it off, it is, after all, the season for such drinks. This cake was absolutely delicious. You know after you've had a meal, and you get desert, and then you struggle to finish the desert and you kick yourself under the table saying...."why, why did I order this." Well, with this desert, you will not be troubled. Upon finishing this chocoalte concoction, i was amazed to find that it felt as if I hadn't had desert at all. The cake was delicious, but as opposed to a heavier piece, it was light and fluffy. Satisfying to the core but not FILLING. Again, I was very pleased.
It's not on their
online menu
so i will tell you what it is:
The Ancho Chile chocolate cake with tomatillo sabayon. The Martini is an Eggnog Martini shaken with Depaz rum served with a cinnamon sugar rim and sprinkled with nutmeg.
My hat off to you, Chef Tim Love, Tejas the Bartender, and Rachel Baumgartner (private dining coordinator) for providing me with one of the most satisfying meals that I never saw coming. I will see you again for sure and I will be bringing friends.....HEYAAAAAAA!