So yesterday I had a morning meeting with my good friend Joe. Illustrator, artist extraordinare. We had both been whining for several months how we've been doing these B-day party + Bar Mitzvah gigs sans business cards. So I finally got these
perforated ink jet sheets
so we could design our own.
Joe is really an amazingly talented artist. This guy doesn't even have to think about it, it just comes naturally to him, I am extremely jealous. We designed him a simple card with a blank spot in the middle, leaving him room to do an original drawing on each. Here's the first two he did:
Seeing how great his were, I decided I needed to get something out of this meeting, so I put him to work re-invigorating my own logo, the almighty, adaptable ROLLIBOAT. He came up with some killer designs: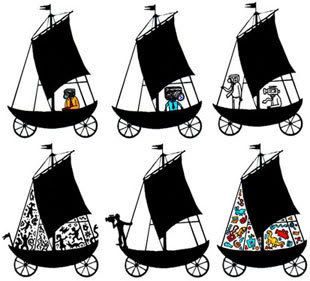 It took a bit of finagling of the print settings to figure out how to get the best print out, and they didn't always print centered, which is a bummer, but overall for $17 with a $5 rebate you can't beat the price.