Last night Sheila and I went to see a movie. I have wanted to see
Perfume: The Story of a Murderer
for a while, since I had finished reading
Jitterbug Perfume, by Tom Robbins
which was recommended to me after I finished filming
This Rocketboom episode
I just became a bit obsessive in regards to perfumes and smell:
The movie is 147 minutes long, and for the first two hours I was really liking it. Little dialogue but heavy in visual story. I was following everything just fine and enjoying it. But the last half hour made no sense whatsoever, and thus, ruined the entire movie for me. I mean, Tom Tykwer, what the HELL were you thinking. From the moment Jean Baptiste steps out of the stage coach and on to the chopping block, to the last drop of the perfume falling out of a bottle, it just made no freaking sense. None. It hurts my feelings and makes me sad, for I was enjoying it and there is no doubt the story is good. But not on screen. Performance from Ben wishywash was good, as was Dustin Hoffman.
Take a look at this peeper: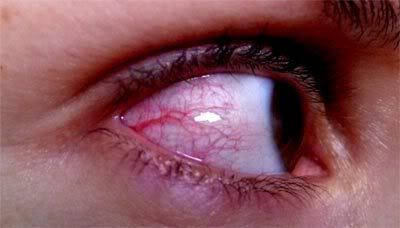 have you ever seen such a bloodshot eye in your life? Also, I've recently come across a cool site where you can
Download a new picture from the cosmos everyday
. That's where I got this one, which has a nice home on my desktop background:

You REALLY must click the pic and see it large, it's a composite of three photographs, just really awesome. And finally, I snapped this yesterday hanging out my window, I was SURE something big was going to happen: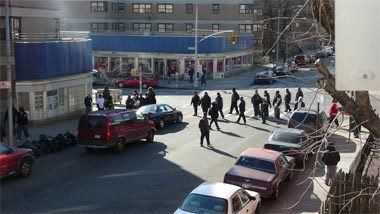 But alas, all 30+ people eventually dispersed. Nothing but a lot of yelling and puffing of chests. I'm glad nobody got hurt, but it was amazing, you could actually feel the tension in the air.