Wednesday was the climax of Romance Week and we had a doozy of a mess outside for it. Alas, that did not stop us from enjoying more festivities.....other things did.
I'll cut right to the point. I ruined Valentine's Day. NOT Romance Week mind you, but Valentine's Day. Sheila will tell you I'm being too hard on myself, but this is what happened. The editing suite at work decided to not work. I was forced to head home and edit from there, after grabbing all the equipment and doing some last minute V-day shopping, I got home and started editing. I was done with a cut by 7pm. Then the feedback, game of chance on a phone call, and uploading / exporting times began. This is typical for an edit session, it was all just last minute and began to collide with my plans for the evening.
We were able to still cook a fine meal together: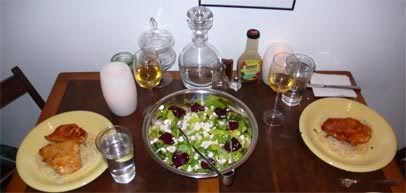 Sheila took care of the apetizer:
And the Salad: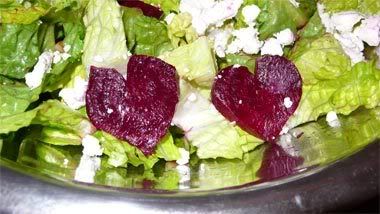 And she got me some wonderful gifts. All made by her own hands and very personal, so I'm not going to tell you what they were, but I will show you this one, which was really sweet of her:
I got her some
freshly made perfume
that I dubbed "Essence of Sheila."
But at the end of the night I was exhausted and had been drinking wine all the while. Like an ass, I fell asleep at midnight. Oh, for shame on me, FOR SHAME.